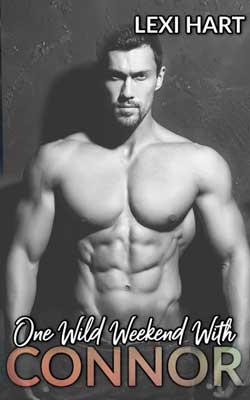 One Wild Weekend with Connor One Wild Weekend With Connor Book 1 by Lexi Hart
Genre: Contemporary Romantic Suspense
Synopsis
Her dirty little secret is about to make headlines…..
When a ruggedly handsome ex-con arrives bleeding on her doorstep, Evelyn is too busy saving his life to consider why he was out during a storm.
Alone, and trapped inside her cozy beach house with no way to call for help, Evelyn is forced to confront more than her growing attraction to the dangerously sexy Connor.
When the storm clears and Connor leaves after an incredible weekend, Evelyn tries to forget the man she can't have again.
But forgetting is impossible when Connor is accused of a crime only she can prove he didn't commit.
If you love Alpha Male Protectors, Opposites Attract, Accidental Romance and Steamy Action Adventure stories with a HEA…The One Wild Weekend Series was written for you!
If you're looking for the next Christian Grey you WILL NOT find him here. You WILL find hot men who know how to protect and please, smart woman, and unpredictable plot twists in a standalone.
Warning: R-18 for language, content and scenes that WILL keep you up nights and MAY cause you to spontaneously combust… Continue reading →