About Ralph Thompson
Ralph Thompson, Jr. was born and reared in Memphis, Tennessee. During his childhood, he saw up close the impact of the civil rights movement. These world-changing events permanently informed his perspective and his writing.
He accepted Christ as a teenager, and like many has seen ups and downs in the years since.
Later, a search for further meaning in his life led to his joining the U.S. Air Force, where he served 26 years. He's a veteran of operations like Just Cause, DESERT SHIELD/DESERT STORM, Southern Watch, and Enduring Freedom.
Thompson has a daughter/son-in-law, a son, and a granddaughter who all live out west. He serves in his church, the Memphis community, and with his fraternity (Alpha Phi Alpha Fraternity, Inc.).
About Writing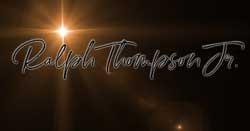 [In] My first two novels, I didn't use an outline. The basic starting ideas were variations of "Why?" I envision my characters as real people, and I take glee in putting challenges in front of them. I seek to challenge their worldviews and decision-making process. I put myself as one following the characters from a distance, watching but not intruding.
As a character's decision brings different consequences, I want that character to learn from the experience, as well as seeing in a different light God's intent for his/her life. Given that, I rarely plan to write "endings" in a classic sense. As we do in real life, my characters try to recover from those challenges and go on with their lives. The ceasing of one scenario can be the lead-in to another.
I write for the person who believes in God, but that person's faith has been shaken. That character still has questions, still misinterprets God's instruction. That person has scars, but wants to go on. Continue reading →