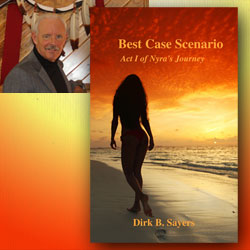 Author Dirk B. Sayers shares the behind the scenes action from his latest novel Best Cast Scenario.
Q: What's Best Case Scenario about
A: It's a contemporary New Adult/Coming of Age story following six months in the life of Nyra Westensee, a college graduate in Los Angeles' South Bay. A year beyond graduation, Nyra is embroiled in the multi-faceted questions of personal and professional identity. On a professional level, she's trying to sort out a career path, which stubbornly refuses to get started. On a personal level, much like her mother, Nyra's had awful luck in love, despite being intelligent, witty and attractive. This continuing frustration has her second-guessing herself, even wondering if her mother's loneliness is a predictor of her own. It is a theme that is one of the motifs woven into the story.
Q: Okay, let's dive into the obvious. You're a guy, writing about a young woman. How did you go about putting yourself inside Nyra's head to write a convincing tale from a woman's point of view?
A: Very, carefully! (Lopsided smile.) Seriously, I think writing a convincing story about anyone, regardless of gender, demands that the author care enough to want to understand. I've been extremely fortunate to have been raised a woman who was a feminist, long before the term was in vogue. I'm also the beneficiary of some incredibly preceptive women in my author's group, who keep me honest. Last but certainly not least, my editor is a millennial woman with a sharp eye for detail. It has been really gratifying to have my critique group, beta readers and editors all tell me they find Nyra believable and that they're looking forward to more of Nyra's journey.
Q: Where did the idea for Best Case Scenario come from?
A: It's been brewing for quite some time. Best Case Scenario seeks to weave the contextual realities of our time—particularly the impact of sweeping and often bewildering change—with the challenges confronting emerging adults in the 21st century. Nyra's journey is mirrors the complications of our age and the factors that help make the world today a more uncertain place than perhaps at any time in our history. Best Case Scenario, is first and foremost about one woman's journey, but it's hard to miss the inherent conflicts between the entrenched interests of the old ways and the evolving new. Each generation faces this, and I've tried to personalize those issues in Nyra's struggles, both professionally and personally.
Q: It sounds like you're signaling that readers should expect social themes to show up in Nyra's story?
A: Yes. And right from the beginning. Nyra story is fundamentally about Nyra and the people in her life, but there's no missing the social and economic implications implicit in her struggle. Anyone young or old can relate to those conflicts, but young women in particular are likely to relate to Nyra's self-conscious search for her true identity. And I'm using self-conscious in its most positive, deliberate sense. One of the things I really admire about the millennials I've gotten to know personally is their consciousness of and sensitivity to the issues of our time. While Best Case Scenario doesn't advance an agenda, there's no missing the social thread running through the story. Continue reading →