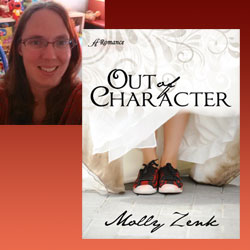 Can you tell us a little bit about the characters in Out of Character?
There are four main characters in the book which also means 4 points of view characters. They are:
*Harmony – a young actress. This is her first role ever beyond high school. She hasn't even done any college productions. She sends in an audition tape and is plucked from obscurity. She feels like she's in over her head and always worried she's going to get fired.
*David – The 'It' boy from across the Pond. He's a model/actor. He acts super confident and secure but that's all a front for his inner insecurities. He's kind of flashy with his faith which can get on the other characters' nerves, even though they are on a faith-based family show.
*Elliot – he's hoping for redemption and to get away from it all after his ex-girlfriend goes on a smear campaign against him on national TV. He and David are in a scripted love triangle with Harmony which goes off script into real life. He's used to playing stalkers and serial killers so [he] is looking for a career/image makeover as well.
*Katie – She's been acting a long time without a big break. She's envious of Harmony or just being handed the lead role. How she handles that jealousy is questionable. She's very ambitious. You'll hate her one minute, and she'll break your heart the next. Katie and Elliot are the two characters that surprised me the most while I was writing. Continue reading →