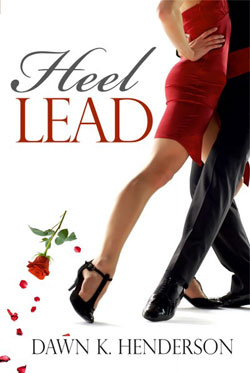 Title: Heel Lead by Dawn K. Henderson
Genre: Contemporary Romance, Women's Fiction
Synopsis
Because life is one big ballroom – and all we can do is dance… Former UK dance champion Caroline Elliott has two burning passions in her life: her sexy, young Spanish lover Antonio, and the weekly Ballroom dance class she teaches to a diverse group of enthusiastic locals in the small English town of Castleham where she lives. But Caroline has a problem. The numbers attending her class have dwindled, and unless she can somehow breathe new life into it, she will have no choice but to close it down. A dance display at the local Arts Festival might just be the perfect opportunity to showcase her students and pull in those much-needed new members. How difficult could it be? With the date of the display
A dance display at the local Arts Festival might just be the perfect opportunity to showcase her students and pull in those much-needed new members. How difficult could it be? With the date of the display approaching, however, illness, affairs and relationship break-ups threaten to crush Caroline's hopes.
As she battles to keep rehearsals on track and soothe her students' rampant nerves, she must also conquer the demons of a long-ago tragedy in her own life.
Will she be able to let go of her fears and step into the spotlight once again? Heel Lead is an emotional, passionate and poignant story that entertains while it tugs at your heartstrings. In this short yet compelling novel, author Dawn K. Henderson presents a captivating tale of the power of love, dance and the ties that bind us.
In this short yet compelling novel, author Dawn K. Henderson presents a captivating tale of the power of love, dance and the ties that bind us. Continue reading →