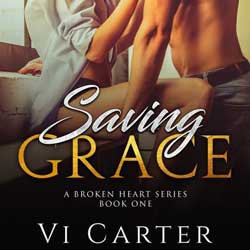 What inspired you to write this book?
My life to be honest. All my books have a common thread and that is that they are inspired by my life events.
Can you tell us a little bit about the characters in Saving Grace?
Grace is the main MC, and she's private and hurting from a loss. Her way of coping is locking out the world. She only lets one person in who is Amber, she's her best friend or like they call each other their soul sister. I loved writing Grace. She's the type of person who's funny with-out knowing it. She's super kind and at times her own worst enemy. But when she meets Derek (Who is super-hot) she has to face her past.
Derek on the other hand is been blackmailed to take care of Grace, by her brother Emmett. Derek is tied to Grace's past, but he takes the job without meeting her to clear a debt that his family owes to Emmett. Once he meets Grace things start to get complicated.
It's a sad yet fun story that has some steamy sex scenes and in my opinion very laired characters.
Are your characters based off real people or did they all come entirely from your imagination?
Everyone of them are based of real people. Amber is my sister and the relationship she has with Grace, is the relationship me and my sister have. So, I could pull on personal experience with that. I always watch people and I might take a trait or their looks and use that in the story and then add in the rest. So each person is based [off] of a real person but they do have lots of add-ons or changes.
Have you written any other books that are not published?
Yes, I have a few more.
Claiming Amber Part Two in this series. It's about Emmett and Amber and will release on the 22nd of November.
Also Taking Laura Part Three in this series. It's about Craig and Laura and will release on the 13th of December.
I also have two more books written and they will be released in 2019. Continue reading →