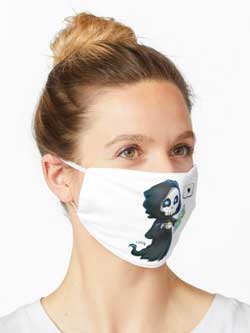 Annabelle Hawthorne lives somewhere deep in the Rocky Mountains and spends her days working hard to write you some of the best erotic literature money can buy.
When not writing, she spends time with her family and can always be found within spitting distance of some form of coffee.
Connect with Annabelle on her Website | Twitter | Amazon | Goodreads | Discord | Patreon
Annabelle Hawthorne Talks Horny Monsters Book 1
What inspired you to write the Horny Monsters series?
I've been an anime fan since I was a teen, and I've been an erotica fan since the age of *coughs* eighteen, definitely eighteen. *cough*
Anyway, one of my favorite anime at the time before my first book was a show called Monster Musume. I really enjoyed the erotic tension between the main character and all of the monster girls he lived with, but in true anime-harem fashion, nothing filthy ever happens. I always wondered what a story would look like if sex was allowed, but never thought more of it.
When I sat down to write Radley's Home for Horny Monsters, this idea came back to me. What would a story look like if the main character was allowed to have sex with all of the characters? In my original draft, I had a few monster girls cooked up and figured that the main character would inherit a home full of them, but I was met with a few problems in that I needed something more.
I was an avid horror fan growing up (and still am) and I often think about the movie House 2. For those who don't know, the movie takes place in an old house that acts as a nexus for different dimensions, and they end up in an ancient temple in the fireplace, a prehistoric world in one of the bedrooms, you get the gist.
So my idea was: what if a house like this had a mysterious past and a bunch of sexy monsters living in it? Originally, this started kind of as a joke, but the house and the characters resonated very well with readers, which is why I am currently writing the rough draft of book four right now. As the story progresses, more monsters are revealed, and the house itself continues to expand from the inside.
That, and the story is so much fun to write, I love all my monsters and the adventures they get to go on.
What can we expect from you in the future?
From the moment I decided to publish Radley's Home for Horny Monsters, I've had some pretty big ideas as to where I would like to go with this career.
Obviously the material is a bit niche, and I would love to round it out. I am currently getting ready to wrap up the rough draft of book four of the Horny Monsters series. I also have a related novel releasing later this year about an arachne who finds love with a vietnam soldier (it takes place in the sixties). I am also working on a spin-off novel involving Lily the succubus.
I have several more books planned in the Horny Monster series beyond book four, and even more ideas for spin-offs in the same universe. My big dream is to make enough money that I can write full-time and start doing short stories in the same universe, as well as erotic shorts like Quarantined: with my hot roommates. Just some silly little stuff to put the offspring through college, maybe allow me to travel more and (if I was really lucky) allow my spouse to retire early.
I would really like to build my name into a brand of erotica that readers can trust for quality. To get there, I've had to work for it. And while I feel like I am further behind where I want to be, I'm hoping I can keep the momentum going. Continue reading →