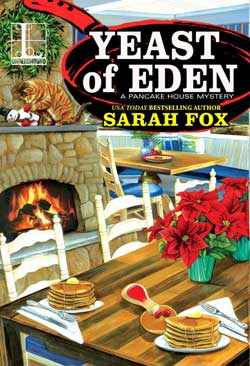 Yeast of Eden A Pancake House Mystery #4 by Sarah Fox
Genre: Cozy Mystery
Pub Date: 10/30/2018
USA Today bestselling author Sarah Fox's delicious new Pancake House Mystery, it's up to Marley McKinney to discover the waffle truth behind a rival's murder . . .
Synopsis
Winter has come to Wildwood Cove, and riding in on the chill is Wally Fowler. Although he's been away for years, establishing his reputation as the self-proclaimed Waffle King, the wealthy blowhard has returned to the coastal community to make money, not friends—by pitting his hot and trendy Waffle Kingdom against Marley McKinney's cozy pancake house, The Flip Side. Wally doesn't see anything wrong in a little healthy competition, until he's murdered in his own state-of-the art kitchen.
Marley isn't surprised when the authorities sniff around The Flip Side for a motive, but it's her best friend Lisa who gets grilled, given her sticky history with the victim. When a second murder rocks the town, it makes it harder than ever for Marley to clear Lisa's name. Marley's afraid that she's next in line to die—and the way things are looking, the odds of surviving her investigation could be stacked against her. Continue reading →