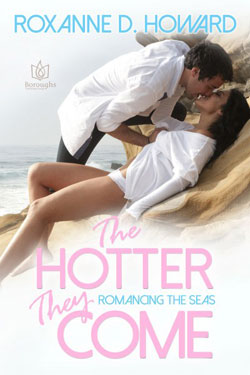 The Hotter They Come Romancing the Seas #1 by Roxanne D. Howard
Genre: Contemporary Romance
Synopsis
When Piper's job sends her undercover to spy on Jack – the beyond sexy hook-up she can't stop thinking about – she is forced to decide if her job is more important than her happiness.
HAPPINESS HAS A PRICE
Captain Jack Spencer owns and runs a whale watching company, Ahoy, Matey. When his business takes off, a jealous rival wants him and his company gone. Jack has no idea the delectable Piper Goldhirsch is tasked with scuttling everything he's worked for – he's too caught up in their magnetic attraction and her web of lies.
​Piper Goldhirsch, head reporter for the tabloid TV show Business Buster, is all work and no play. When she and the all too tempting Jack Spencer have a one-night stand that turns out to be the greatest sex of her life, she is haunted by the powerful magic between them. Sent undercover to expose his whale watching business, she is torn between her assignment and the first man she has ever wanted. With her happiness on the line, Piper has only one choice. Continue reading →