Our Writing Process by Merricat Mulwray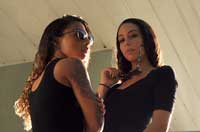 Our original idea was to try our hand at writing a mass-market paperback type romance novel. But just like anything else. There is an art to it. We found we couldn't do it. It wasn't us. Our attempt was ridiculous.
We learned the best lesson; if you think something is easy or you can do better, go for it. But during the process, we got into a different frame of mind. Once we decided not to be something we weren't. Once our voice came through we discovered we had a lot to say.
Finding your voice
The biggest trap is not being authentic to your own voice. You don't have to be James Joyce, E.L. James or Joyce Carol Oates. You can just be you. Your voice will resonate with someone.
Our experiences with the issues addressed in Sourpuss helped our story find shape. We also found additional support in a lot of stories in the news. We realized these things weren't isolated. We also saw a great documentary, The Hunting Ground, that was eye-opening regarding the ubiquity of these experiences.
Creating characters
Our technical process evolves from the creation of our characters. We have a loose idea of the situations they may be in. We tend to act out scenes, performing each character for each other.
We work out behavior that way and discuss what seems right. Eventually, we know our characters so well how they behave becomes second nature. We were highly inspired so luckily there weren't many challenges to speak of aside from just sitting down and doing the work. Which I think any writer knows is the hardest part. After we spend a good amount of time writing separately we come together to discuss, rewrite and edit.
The challenge of writing together
The biggest challenge of writing together is learning the difference between professional and family time. We struggled a lot with it in the beginning.
If we had an argument over something in the book, we didn't know if things were still good like, "Are we still going to the container store tomorrow?" Needless to say, some planned outings got postponed. Continue reading →