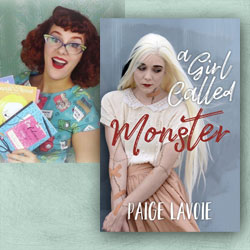 In "A Girl Called Monster" author Paige Lavoie tells us that it's okay to walk away from unhealthy relationships. You don't owe them your life, even if they created yours. This is the case for her main character, who remains nameless in the first few chapters. Created in a dark laboratory, she's expected to accept her life as an experiment with no sign of purpose or a life outside the walls she was 'born' in.
She's curious, a little rebellious, and begins to find her escape in books, wondering if the outside world will be the same as what's described in the pages. When she finally makes her escape, she's both awed and taken aback by the bright colors and loud noises as well as the kindness and cruelty of strangers.
Bumbling around a new town, it's clear to all who see her that she's an outsider. Lost and covered in scars, she struggles at first. Unsure of how to handle social situations and money, she begins to feel unwelcome until she meets a delightful crew of punky stylists. She finds happiness and acceptance with every step she takes away from the doctor. Until, as most proponents of unhealthy relationships, he reappears when she least expects it.
Our Monster is now left with a choice of who to trust, and wonders if her friends will truly accept her even if they learn the truth about her past.
"At first, I thought maybe I'd write it as a romance, but realized towards the end that was wrong. My protagonist deserved so much more than that ending. I wanted her to find true happiness and she just wouldn't have it at his side."
In her writing, Lavoie drives home the point that you decide what you're "made for". The choice on how you want to live your life and the goals you achieve are up to you. No matter how big or small those goals may seem, they're yours. Life is all about chasing after them and finding little joys in the short time we're given.
A Girl Called Monster is a heartfelt journey of self-discovery, acceptance, and taking control of your destiny. Continue reading →