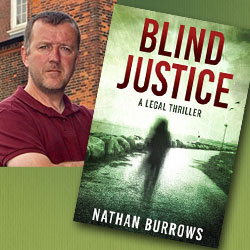 What inspired you to write this book?
In one word, insomnia!
I was working over in the Middle East for a 6 month fixed period, and I was living in a very small accommodation. Basically, it was a tiny shipping container with a door, not unlike a prison cell. I couldn't sleep, and was lying there one night comparing it in my head to being in prison.
Now I've never been in prison, but one of the things that I thought about while I was trying to get to sleep was what would it be like to actually be in prison? Then, from there, what would it be like to be in prison for a crime you didn't commit! And from there, Blind Justice was born.
What can we expect from you in the future?
I'm currently writing a dark comedy called 'Meat'. It's a very different book to Blind Justice, but it's such a good story that I just have to get it out there! It's set in a post-Brexit United Kingdom, and involves pig farming. I'm not going to say any more than that, other than the tag line for the book is
'That Wasn't Pork'…
How did you come up with the concept and characters for the book?
It was more a case of they came to me. Once I had the overall concept, some of the characters were obvious. I introduced one a bit later on – Laura Flynn – to avoid having an all male 'cast', and she quickly became one of my favourite characters. We'll definitely be seeing more of her in the future!
Where did you come up with the names in the story?
I use a fantastic writing tool called Scrivener to write with. One of the features it has is a character name generator. I used it to come up with names that I liked, and that I thought fit the characters. Continue reading →