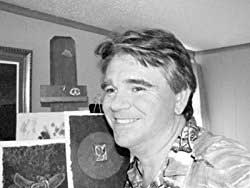 Drury Jamison is not a bestselling author, yet. But he believes hard work will prevail. He has been writing since he could read and gave all his attention to the story at the expense of the rules.
Born an Army brat he finally settled and came to call the Missouri Ozarks home. While raising wonderful kids and failing at everything else he wrote screenplays, television scripts, advertising copy and filthy limericks. After many twists, and multiple once-in-a-lifetime life changing events, he returned to work on the short stories and novels he loved best.
Drury Jamison in his own words
I'm a guy who writes erotic, romantic/suspense novels. That's an odd thing all by itself. Writing is one of the few artistic or business areas truly dominated by women.
Sure, you have genres that are bastions of maleness but even those are changing. Aside from writing the books, most agents and editors are women. I'm not complaining or taking a position on it. I think so much of the reason it is this way is that you can't hide behind gender or bluster or tradition when you literally have your words doing the talking for you.
The thing that makes everything all the weirder for me is that my main characters are women and judged by women gatekeepers and readers. I hope I do a good job. The response had been overwhelmingly positive. But…
I've begun to notice something consistent in my criticisms. The main female characters in my books, the ones who are carrying the load of the story—the heroes—have been described to me as not feminine. The really strange thing about it is that those same characters are also getting a lot of attention, from readers, as true people.
This was something I did a lot of worrying and soul searching about. Then I believe that I came to an answer. The criticism is not about the women, it is about the role.
All of my female main characters defy gender expectations. In traditional mysteries, my Katrina (Hurricane) Williams series, I write about a female cop who has issues with PTSD, drinking, and violence. That's to say I took a traditional male literary trope and put in a woman.
In my erotic suspense novels, my main characters tend to be strong women discovering their personal dominance. It turns out that I don't write damsels in distress.
Defying expectations is what the criticisms are really about. I'm not saying my writing or my characters deserve no criticism. No writer can support that. But it is important, for the writer, to recognize the difference between criticizing the art and criticizing the expectation.
Like I said, I'm a white man writing books in a culture dominated by women and one very open to diversity. Maybe I'm getting a little taste of what my audience has experienced for generations. Not only is this my chance to learn from it, but maybe a chance to help expand the perceptions of what's possible a little bit. I hope so. I'm a big fan of defying expectations. It seems my fans are as well.
Give my latest, The Red Kiss a chance and let me know how I'm doing. This time I created two strong women who are going through life changing challenges and heart changing relationships. The fun thing is, maybe they do the rescuing. Continue reading →