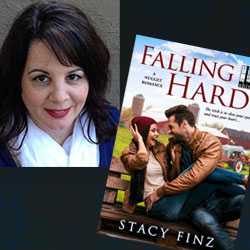 Five Fun Facts about the Nugget Romance Series by Stacy Finz
The fictional town of Nugget is based on an amalgam of towns in Plumas County, which is located in California's Sierra Nevada. My main inspiration was the town of Portola, less than an hour from Reno, Nevada.
There was a real-life burger restaurant called the Bun Boy in Baker, California (nowhere near Plumas County) but it's now closed. I used to eat there on my way to Death Valley and the name stuck. So, when I decided to include a burger joint as one of the businesses in Nugget it was a no brainer to call it the Bun Boy.
The inspiration for Sierra Heights, Nugget's sole gated community, came from Grizzly Ranch in Portola. It's a gorgeous subdivision with a golf course that seems slightly out of place in an otherwise rustic town. My husband and I like to make fun of it, but secretly, we want a home there.
The area of the Sierra Nevada that I write about is not far from where the Donner Party tragedy happened. I've always been obsessed with this piece of California history because hello, cannibalism. The heroine in the first book in the series, Going Home, is also obsessed with it.
The Feather River, which is a landmark in all my Nugget books, is completely real and absolutely spectacular. And as I write this was at risk of overflowing due to all the rain we've gotten in California.
About Stacy Finz 
Stacy Finz is an award-winning reporter for the San Francisco Chronicle. After more than twenty years covering notorious serial killers, naked-tractor-driving farmers, fanatical foodies, aging rock stars and weird Western towns, she figured she finally had enough material to launch a career writing fiction.
In 2012 she won the Daphne du Maurier Award for unpublished single-title mystery/suspense. She lives in Berkeley, California with her husband.
Connect with Stacy: Newsletter | Website | Twitter | Facebook | Amazon | Goodreads Continue reading →