About the Book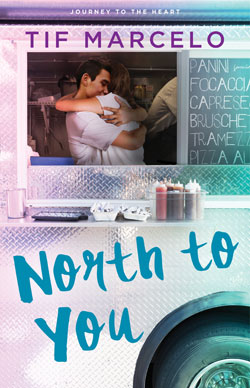 Title: North to You (Journey to the Heart #1) by Tif Marcelo
Release date: June 5, 2017
Published by: Pocket Star
Synopsis
In this warm-hearted and charming debut from Tif Marcelo, a food truck chef and her long lost Army love clash when they cross paths in San Francisco.
Camille Marino has got a full plate. As the sole guardian of her eighteen-year-old sister and the head chef and owner of a food truck, she's used to life being a juggling act. With food to cook, social media accounts to manage, and a little sister to look after, she doesn't have time for much else.
That is until Drew Bautista walks back into her life.
Drew is Camille's former high school crush and he returns to San Francisco to repair his relationship with his father before he ships out for deployment. By helping his father renovate his failing Filipino restaurant, he hopes to win back his respect. But when sparks fly between Drew and Camille—his father's major competition and sworn enemy—Drew is conflicted. Should he join his father in the war against her food truck? Or surrender to the woman who's given him a second chance at love? Continue reading →