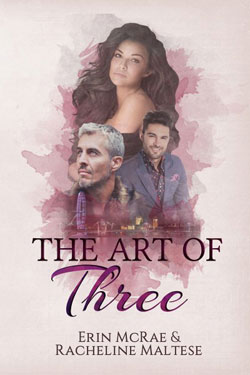 The Art of Three by Erin McRae & Racheline Maltese
Genre: Contemporary Romance, Menage (non-erotic)
Synopsis
Jamie Conway has a charmed life. At 24, he's relocated from Dublin to London to star in his first feature film. Unfortunately, he also has one very big problem: He has a huge crush on his happily married costar.
British heartthrob to middle-aged women everywhere, Callum Griffith-Davies should have more sense than to flirt with his new-to-the-business colleague, but good judgment isn't one of the qualities for which he's known.
Nerea Espinosa de Los Monteros Nessim has better things to do than fret about her husband's newest conquest. She's busy planning her daughter's wedding at the family's farmhouse in rural Spain. Besides, she and Callum have been married and polyamorous for almost 30 years; she's content to let him make his own bad choices.
But when Nerea flies to London after her artwork is selected for a high-profile museum show, she falls for Jamie too. Soon Callum, Jamie, and Nerea have bigger problems, and surprises, than international logistics. From ex-lovers and nosy neighbors to adult children with dramas of their own, The Art of Three is a contemporary romance that celebrates families, and farce, in all shapes and sizes. Continue reading →