About Judy H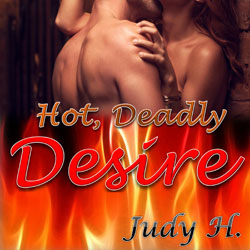 Judy H. is a romantic at heart, but she likes a little mystery and even a bit of danger in her books.  She wants her stories filled with hot, heavy passion, blistering sex and flawed characters you like to root for and sometimes hit upside the head!
Her heroines are smart, savvy, and self-sufficient.  Her heroes have to be strong, somewhat mysterious, and maybe even a tad dangerous.  When her hero and heroine meet, spontaneous combustion occurs.
She's a southern girl who enjoys cooking and eating, reading, and of course writing. She keeps a digital recorder by her bedside and in her purse because she never knows when an idea will strike, and she has to be ready to answer the call whenever it comes.
Describe yourself in five words or less.
Tenacious, fun, grounded, creative and resilient.
Favorite writing place. 
My back porch.
What are 5 things you must have with you when you write?
My laptop, a little background noise, something to drink (not the hard stuff, lol; just something to wet my whistle), my cell phone nearby, and a digital recorder (because sometimes my mind thinks faster than I can type).
Can you tell us a little about your book?
Hot, Deadly Desire is what I like to call an erotic romantic suspense.  It's about a tough, haunted police detective, Cinnamon, tracking a sadistic serial killer who's just killed her best friend, and the too-good-to-be-true man (Dane), she picks up in a bar.  They both agreed to a one-night stand; however, they quickly become entangled in hot steamy desire and heart-pounding danger.
Name one thing you won't leave home without.
My phone.
Name three things on your desk right now. Continue reading →