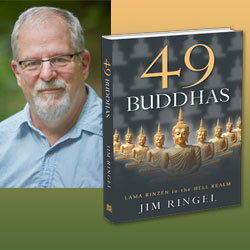 Jim Ringel is the author of 49 Buddhas: Lama Rinzen in the Hell Realm featured below.
What inspired you to write this book?
Buddhism teaches me the importance of seeing the world as it is, without the overlay of my own ego and emotion.
The same way a cop views a crime: objectively, without personal interpretation. That's what I wanted to explore in 49 Buddhas, the first in my Lama Rinzen Mystery series.
I'm a big fan of detective fiction. Jim Thompson, Dashiell Hammett, Raymond Carver, the Martin Beck novels. The story always seems pinned to the detective's ability to cope with a world too grimy for his own personal ethos or code of honor.
Like so many detectives before him, Lama Rinzen in 49 Buddhas has an ethos that he carries like a weapon into the Hell Realm. But weapons often turn on us and become our undoing. What Rinzen considers his strength becomes the very thing that keeps him from seeing what he needs to see.
I wanted to explore this Buddhist mystery in the context of a traditional detective mystery. That's why I am writing the Lama Rinzen series. 49 Buddhas takes place in the Hell Realm on Denver's Colfax Avenue. But it's really a Hell of the lama's own making. A projection of his own mind. He tries doing what he believes is right, but it only leads him deeper and deeper into confusion. That's the Hell of it.
The confusion, and the world's refusal to conform to our own viewpoint. Rinzen tries to bend circumstance to his own will, but in the end finds himself being bent. Absorbing into a bigger world not of his own making is how he truly comes to understand.
How did you come up with the concept and characters for the book? Continue reading →