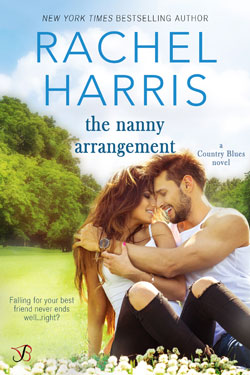 Title: The Nanny Arrangement (Country Blues #2) by Rachel Harris
Release Date: May 22, 2017
Published by: Entangled Bliss
Synopsis
Soft-spoken and shy Hannah Fisher is determined to make the man she's loved her entire life finally see her as a woman. With the help of a makeover, a new mission—Operation Find My Happy—and the convenient[ly] forced proximity of a tour bus, she vows to win her best friend Deacon's heart.
Former bad boy and current fiddle player Deacon Latrell has the world at his fingertips: a new gig with a famous band, plus his best friend on tour as his son's nanny. Life couldn't get much sweeter. Now if only he could stop imagining kissing the daylights out of his childhood BFF…
With one friend set on pushing the boundaries and the other afraid to rock the boat, one thing's for certain—their story would make one heck of a country song.
Excerpt from The Nanny Arrangement
The lingerie had been an impulse purchase—an impulse that had then led to an epiphany. Blush and jade. Satin and lace. Toile and mousseline…the colors, styles, and textures had been overwhelming. Trying them on, well, that had been extraordinary. The silk had felt decadent against Hannah's skin, almost forbidden, and so unlike anything she'd ever worn before. Living an ocean away from everyone and everything she'd ever known, nursing a broken heart, it had been exactly what Hannah had needed.
Initially, she'd fled to Paris to get over Deacon, but more than that, she'd been fleeing the woman she'd sadly become. A woman who sat on the sidelines of her own life. For far too long, she'd allowed other people to dictate her happiness, and that realization, coupled with naughty lingerie and a few glasses of spectacular wine in an adorable bistro, had birthed her new mission. Hannah liked to call it, Operation Joie de Vivre…or Operation Find My Happy.
Her mission was threefold. Continue reading →