In Young Hollywood, Episode 10 – Bromance, Frankie's strange behavior continues, this time its landed him in serious trouble. He may have gone too far with this one… but then again, it's Frankie Malone we're talking about.
The Recap
We first learned of Frankie's strange behavior in Young Hollywood, Episode 6 – Crotch Rocket, when he shows up with a flashy new toy.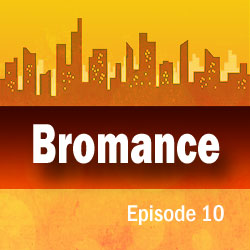 "Think the Songbird is a virgin? She spent most of her life on a tour bus, I'm sure there were some messing around going on." Frankie mused, as he eyed Joel and Leighann.
"Don't talk about LD like that." Zax snapped and Frankie threw up his hands in surrender.
"Whether or not he's getting some, he looks happy."
"It's not always about sex, Frankie." Zax retorted.
"At our age, it should be. We're at the prime in our lives. A gentle breeze in that area… and up it goes. You have any idea how lucky we are Zax? We need to leverage that. When we turn 60, we'll wish we could get and keep a hard-on."
Zax shook his head disapprovingly, "I think there's too much testosterone in your house."
Zax noticed Frankie's pre-occupation when Rebecca Foster entered the dining hall.
"What's going on there? You guys broke up again?"
"More like a hiatus."
"Why don't you just end it for good?"
"Because one day I'm gonna marry her." Frankie confessed and Zax knew he was serious. "I love her, Z. I just can't commit right now. It's my calling to fuck around… get it out of my system and when it's all done, I'll chose her."
"She's not just gonna sit around and wait for you."
"We have an understanding."
Joel joined them at the table. "If you want Bex, you're gonna have to do better at holding on to her." He pointed out.
"Does she hate me?" Frankie asked.
"No, but a girl like her is a rear gem." Joel answered.
"Like I said, we have an understanding, she can date whomever she wants and when the time is right, we'll make it permanent." Frankie stated proudly and Joel and Zax exchanged looks. "Fine, I'll prove it." He left the table and headed toward Bex and her friends. Continue reading →