In Young Hollywood, Episode 11 – The Cover Up, Adrian, Jayne and Robin, put together a plan to keep Adriana's secret safe. Meanwhile, Robin struggles with the legality of it all.
The Recap
In Episode 3 – Doctor Uncle, revenge takes a backseat when a tragic accident, puts gifted surgeon, Adrian Banovic at a crossroad. His goal is to protect his niece's reputation at any cost.
In Episode 9 – The Reveal, Adrian breaks the news to his brother, Robin about what really happened the night of Adriana's accident.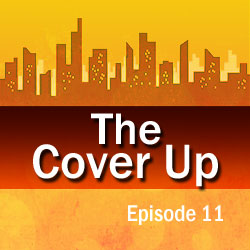 "What's the matter, Daddy? Are you mad at me because I'm not getting better fast enough?" Adriana picked up on her father's solemn mood the minute he walked in.
"No, baby." Robin replied lovingly, "I'm not mad at you."
"I'll remember soon, I'm really trying." Adriana's pleading eyes melted him.
"Honey, don't force yourself. Your memory will return when the time is right. I want to make everything perfect for you when you come home in a few days."
"It'll be fine, Dad. I'll be fine."
"How's the patient doing?" Adrian entered and nodded at his brother. "Any headaches? Pain behind the eyes?"
He examined her.
"No." Adriana answered.
"Did you hear? You'll be going home soon. Think you can handle that?"
Adriana looked at her father, nodded and smiled.
"Your skin coloration is coming back nicely. Have you been using the special glasses I gave you when they take you out?"
"Yep."
"You'll have to keep wearing them anytime you go outside and if it is too bright around the house."
"Okay."
"I'll come by the house and check on you."
"You don't have too, I'll be fine." Adriana put on a brave face.
The truth was that she was scared to go home. The people at the hospital were familiar to her but outside, except for her father and Warren, everyone else were strangers. Continue reading →