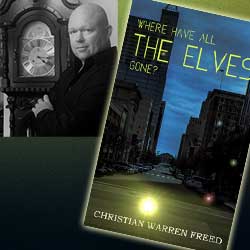 Author Christian W Freed shares the inspiration behind his latest novel.
Inspiration comes in many forms and degrees. The origins of one of my favorite books: Beyond the Edge of Dawn, came from my time in Baghdad, Iraq in 2005.
Stationed at Camp Victory- situated beside Baghdad International Airport (BIAP), I used to run around a large lake at night. In the center of the lake was a bombed-out palace that one of Saddam Hussein's sons once owned.
I was in Mosul, Iraq in 2003 when Saddam was captured, and his sons were caught and killed in a gnarly firefight. Much to my chagrin, Saddam himself was being held prisoner in the bombed-out palace. Each night I would run around the lake and try to catch a glimpse of the Hitler-influenced dictator.
I never did get to see him before he was tried and hung by an Iraqi court, but during those nights a name entered my head. Wheels began to turn.
Who was he/she?
What did he do?
Why should I write a story about him?
The answers kept coming and each night when I finished my run I would go to my notebook and write the details down.
By the time my third tour of duty in Iraq was finished I had the outline for Dawn. Inspiration can be found everywhere, if only we open our eyes to see it. Continue reading →