Sandra Hurst, in her own words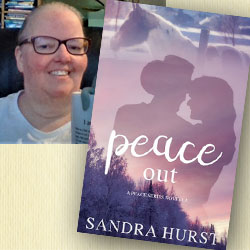 When I was little, we had a burgundy set of children's encyclopedias and I would pick out stories and poems from them to put on performances in the living room, insisting that my family listen to the stories and legends that I had read. I grew up on the stories of Robin Hood, King Arthur, and the Fae. What else could I ever be?
I write because the words are my way of exploring a world I can't see. I'm a myth-maker, there is nothing that gives me more creative juice than asking a question and then building a world to find the answer. Myths and fantasy give us the opportunity to look at ourselves in new and often unusual ways, to play a huge game of 'what if' and see where the answers will fall.
My mind isn't healthy if I'm not writing, it really isn't a choice for me.
I think that one of the hardest things to do as a newer author is to explain your writing style. It's probably a question that would be more appropriately asked of someone who has read your work, and at the beginning, no one has. It's hard to describe yourself without being either self-congratulatory or somewhat delusional. If I had to say something about my own style, I think I would call it lyrical. I was a poet long before I accepted the challenge of writing prose. I would compare my style to current writers I think I would say that it is somewhat like early work by Guy Gavriel Kay, although I think I smell the self-delusion rising on that one.
I now live in Calgary, Alberta with my husband and son, both of whom I love dearly, and have put up for sale on e-bay when their behavior demanded it.  My day to day life is a balance between my outside life as a paralegal counselor and my inner life as an author/poet. In between writing projects, I work on improving my craft, write book reviews, try to keep my blog current, and study mythologies from around the world. Continue reading →