Introducing Alexia Adams, author, mother, adventurer!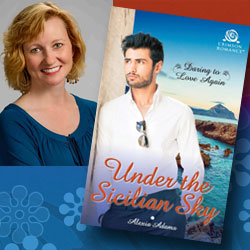 Alexia the Adventurer
I have the heart of a nomad. If I could, I'd move to a different country every two years.
I used to have lots of adventures. My husband recently sent me a photo he'd seen online and said, "Isn't this place amazing?" To which I replied, "Yes, it's in India and I rode an elephant up the hill to the gates when I visited."
What are some of your pet peeves?
I'm a mother of four so I've had to forget any plans I might have had for a clean, neat house. But what really gets my goat is when a family member cooks food just for themselves then expects me to clean up all the dishes.
Where were you born?
I was born in British Columbia on the west coast of Canada near to where I now live. But I've also lived in Montreal as a child and a small town in Manitoba where I went to high school.
If you knew you'd die tomorrow, how would you spend your last day?
It would start with a long massage, then a catered picnic on the beach with my family, followed by a fabulous dinner in an Italian restaurant (again with my husband and children) where we'd share our favorite funny memories. Laughter and wine (and a glass or two of limoncello) would flow until it was time to go.
Who is your hero and why?
My husband is my hero. He had a disadvantaged childhood but has never let it stop him. He has a great sense of humor and is a fabulous life partner.
What do you do to unwind and relax?
I read. If I'm really stressed then I'll reread one of my favorites as I already know the ending so I can just enjoy spending time with characters I know and love.
How do you find time to write as a parent? Continue reading →