Best selling author, Dani Collins share how she created the character Glory in her On The Edge novel.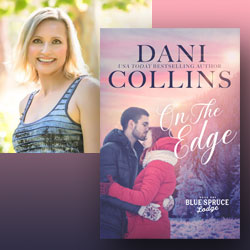 Can Glory live up to her illustrious name?
When I started plotting the book that eventually became On The Edge, my husband and I were redoing our will. My writing career was established with a backlist of twenty-plus books. I had to appoint someone to look after that side of things if I were hit by a bus.
That started me thinking that maybe my heroine, Glory, administers her mom's literary estate. I decided her mother was an iconic romance author like Nora Roberts, beloved by millions. She left Glory's father such a fortune, he's able to sink it into the run-down Blue Spruce Lodge.
Glory's mom had a long battle with cancer, so Glory has had to step up with increasing skills over the years. It started as stuffing bookmarks in envelopes, but by the end, she's heavily editing books from her mother's backlist.
Glory always wanted to write. In fact, by Grade Nine, she was so inspired by her mom, she scribbled scenes into a notebook Love scenes. Ones that starred a boy she had a crush on.
That was when that jock-pig, Garrett Waters, grabbed it and read it to the class. It was beyond humiliating.
Glory continued to dream up stories, but they didn't make it onto paper. She couldn't risk it. She didn't write again until she began editing her mom's books. Then her mom died and writer's block hit, but before that, she was writing lengthy passages, sometimes whole chapters.
She never takes credit, though. Too scary.
Now her father is renovating Blue Spruce Lodge. He needs the cash that would come with a new release, but Glory's mom is gone. Glory starts writing with the intention of publishing the book as an 'undiscovered' title of her mother's.
I won't spoil how that turns out, but I will tell you that the hero, Rolf—a serious jock who is a gold-medal alpine champion—is her inspiration for her own hero. And Rolf finds out what she's doing.
Fun Fact: The book Glory writes, Blessed Winter, is a book-within-a-book. You get to read it as Glory writes it while she's fighting with/falling for Rolf in On The Edge. Continue reading →