In Episode 4 – Young Hollywood, teen heartthrob, Warren Voss visits his long time crush, Adriana at the hospital. His motives run deep and somebody is about to get hurt.
The Recap
We jump back in time a little in this episode. In Episode 2 – Dear Friend, Zax is peeved by his encounter with Warren at the hospital. He confides in Leighann.
In Episode 3 – Doctor Uncle, Adrian learns that Warren has been talking to the tabloids. Here's how it all went down. Enjoy!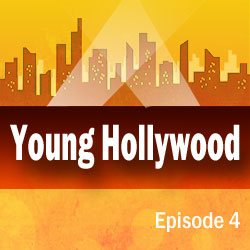 Seventeen-year-old Warren Voss, was voted one of Young Hollywood's, 25 hottest stars under 25. On the fast-track to Hollywood's 'It' list, his days on the number one daytime soap opera, My Whole Life was a distant memory. While the show opened a lot of doors for him, he was mostly proud of his silver screen accolades. Still, My Whole Life was where he had met and fell hard for Adriana Kelly Banovic. Thanks to their roles as teenage sweethearts, their first kiss was immortalized on camera and replayed on late night reruns courtesy SoapNet.
To fuel their storyline on the show, someone started a rumor that the young lovers took their romance off set, the press went wild and he and Adriana played along.
Warren was on location in South Carolina when he heard about Adriana's accident on the news. He immediately called their agent to find out how she was doing. During his three-day downtime, he was finally able to head back to Los Angeles to see her. Even though they remained good friends, he still harbored feelings for her.
Warren was thrilled when he found out that he was one out of the two people she remembered. The icing on the cake was that she thought that they were dating. If her warped memory would allow, he planned to exploit the situation to the full extent. Back in their soap-opera days, Adriana had crushed him when she told him that she wasn't into him, and that she was just doing her part to boost the show's ratings. Continue reading →