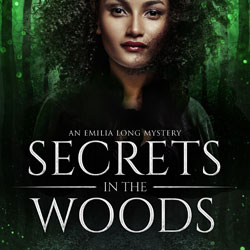 If you could spend time a character from your book who would it be?
It would probably be Odessa. She has so many unknowns to her and she is so complex that she becomes the kind of villain that you would hate but want to just give her a hug and make her feel better all at the same time.
She's so closed off that you want to sit down with her and get to know her better. You want to know what makes her tick, what hurts her, and what has hardened her heart against the world.
If you could automatically get a skill that one of your characters possess what would it be?
I would like to have Chanel's computer hacking skills. She can get into so many computer systems that at times I think that's a gift that I need in my life. But seriously, Chanel is that artist free spirit type that is able to make light of tough situations and she brings a calm balance to Emilia. I think everyone needs a friend that helps us see the best in everything
Which character from your book could use a hug or slap?
Odessa could use a hug and a slap all at the same time.
Tell us about your book cover and how it came about.
For me, my book cover should always be like an art piece that summarized what the book is all about. This was no different. I wanted it to be haunting and have the focal point on a woman surrounded by nothing but woods. I wanted someone to look into her eyes and see that there was a story there.
How do you choose the names of your characters? Continue reading →