This episode contains adult language and situations.
Episode 1 – The Tennis Champ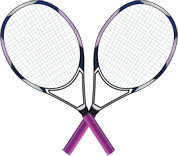 Kristin Newman, was ranked number 1 in the USTA under-21 players in Southern California. Her powerful serves and aggressive backhand stroke struck fear into her opponents even before they set foot on the tennis court.
Kristin was poised to becoming a world class tennis champion like her father/coach Josh Newman. Not since Josh Newman played his last game at Westwood Academy, before moving on to the pros, had so much attention and excitement been brought to the game. Kristin was the next generation. When she walked out onto the court, she owned it, and the crowd loved her. People came from all over the country to see her play. Girls wanted to be like her, and boys wanted to sleep with her. She was a marketers' dream and it wasn't long before sponsors started courting her, throwing in all sorts of extra perks like private plane rides to the destination of her choice, yacht parties, premium seats for any concert or event she wanted; anything to secure her endorsement.
Kristin Newman was no longer Westwood Academy's star player, she belonged to the tennis enthusiasts of Southern California. Her entire career was already mapped out for her; she'd become the next Serena Williams.
Kristin was in her senior year at Westwood Academy, yet for most of her years there she felt like an alien. Her strict training regime, speaking engagements and public events made her social life non-existent, that is, until she convinced her father that she could balance training, socializing and keep up her grades.
Kristin wasn't exactly sad when she rolled her ankle and had to miss several games. As good as she was at tennis, it wasn't exactly her first love. When the doctor had suggested she sit out this season to give her body time to heal, attendance at the games dropped, and Kristin's influence was clearly felt.
The downtime gave Kristin plenty of time to leverage her potential endorsement deals and most importantly, spend time with her boyfriend, Westwood Academy's star basketball player, Zax Banovic.
When her twenty-minute attempt to arouse him failed miserably, she rolled off him and onto the bed.
"I'm sorry," Zax whispered. "It's not you."
"Are you seriously giving me the 'It's not you, it's me speech?'" Kristin didn't bother to hide her frustration. She got out of bed, picked her clothes off the floor and started to get dress.
"It's just this thing with my family … there's this huge space between my mom and dad … they think I don't notice it. They never talk or laugh anymore, it's like they can't be in the same room. Kevin's not around, so there is nothing … just emptiness."
Zax's family had been in turmoil since his sister, Adriana, got into an accident and lost her memory. While Kristin sympathized with him, she hated that his problems affected their sex life.
"Welcome to my world, Zax. My dad's only around to coach me, and the only time I see my mother, is in one of her stupid movies, and recently they've all been box-office flops mind you." Kristin pulled her tee-shirt over her head.
"I'm sorry, Kristin."
She sat next to him on the bed. "You can't let what's going on with your family affect what we have. It's not fair."
"I know… My family means everything to me."
Kristin took his face in her hands. "Are you still attracted to me, Zax?"
"Of course." He replied.
"Then, show me." She straddled him and lightly teased his ear with her tongue. Her hand slid down his bare chest, slowly tracing the ripples of his chiseled chest. She rotated her hips on his pelvis hoping to get a raise out of him.
"Can we not do this right now?" Zax bit his lip.
Kristin groaned loudly with frustration, climbed off him and headed to the bathroom.
"You can show yourself out." She snapped. Continue reading →