Author Kerry Evelyn talks about writing her latest novel Cruising on Ice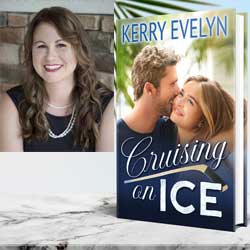 Can you tell us a little bit about the characters in Cruising on Ice? How did you come up with the concept and characters for the book?
My daughter has been asking me for years why I haven't written a cheer story. We both love the sport, and Taylor has been in my head for a long time. As has Kingston—he was a side character in Love on the Ice, and I developed him completely when I wrote that story. I thought the two of them would be good together, as more than friends, and it was time to write their book. Since cheer comp season ends around the time of the hockey playoffs, I knew it would have to take place over the summer.
The idea to put them on a cruise ship came to me when I was planning one of our family cruises. Their room has the layout our family had on the Disney Dream, and I pulled my favorite things from other ships, like the ice rink.
What did you learn during the writing of your recent book?
I learned how much I didn't know about hockey! I had the sport down but the contracts and expansion draft minutia – yeeesh! Luckily, I have some superfan friends and dear friend in the Florida Panthers organization who helped me get it all right.
My Panther guy was especially helpful with the epilogue scene logistics, and when I sent him the finished version, he loved it! it was an awesome moment for me.
If you had to do it all over again, would you change anything in your latest book?
Nope! I love every word I wrote in Cruising on Ice! The freedom of publishing it myself come s with hiring an editing team that helps my vision come to life instead of trying to fit it to what's trending in the market. Also, I love my ensemble cast! If I'd have pubbed it traditionally, I'm sure many of my side characters would have been cut.
What inspired you to write this book?
I've always been a hockey fan. No Sweet 16 party for me – I dragged my friends to a hockey game! Several of the players were friends of mine, and I loved to watch them play.
When I moved to Florida, I couldn't find anyone to go to games with me. It was such a bummer! A couple years ago, I decided to write a short romance story, Love on the Ice, and during my research I discovered hockey romance was thing! I read a Kat Mizera book and was hooked! That story went on to become finalist in the Florida Writers Association's Royal Palm Literary.
How did you come up with the title of your first novel?
It was originally On the Edge. My characters were dealing with PTSD and staying at resort called the Cliff Walk in Downeast, Maine. A main scene takes place near the edge of a cliff. I loved that "edge" represented many things in the story. However, that title didn't hint at the genre.
While at an industry conference in July 2017, I mentioned that to my favorite Regency author, Anabelle Bryant, and she suggested simply adding Love to the title. So, Love on the Edge it became!
About Kerry Evelyn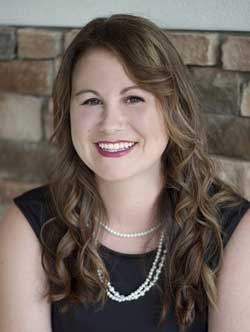 Kerry Evelyn is a native of the Massachusetts South Coast. She loves God, books of all kinds, traveling, taking selfies, sweet drinks, boy bands, and escaping into her imagination, where every child is happy and healthy, every house has a library, and her hubby wears coattails and a top hat 24/7.She is an instructor, mentor, and speaker, author of the Crane's Cove series, small town romance set in Downeast Maine a Guest Author for the Cat's Paw Cove Romance world, and several short stories.
Connect on her Website | Facebook | Twitter | Instagram | Bookbub | Amazon | Goodreads
About the Book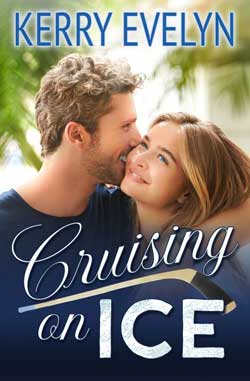 Cruising on Ice Palmer City Voltage Book 1 by Kerry Evelyn
Genre: Sweet Friends-to-Lovers Hockey Romance
Synopsis
It's true that hockey players break hearts.
Sometimes, it's their own.
Taylor Ranford has three immediate goals: have a blast on her birthday cruise with her sister, help Team USA win the international cheerleading title, and earn enough money to put her through grad school. Not part of the plan: her sister getting sick and sending her best friend—and Taylor's longtime crush—in her place. She can't face the only guy she's ever had feelings for treating her like she's his little sister when she really wants so much more.
After a big blow to his career—and his ego—and with no immediate plans for the next season, Kingston Brewer jumps at the opportunity to go on a last-minute cruise with the bouncy-ponytailed cheerleading coach. Taylor had always been there when he needed her most, and he holds a soft spot for her in his heart. But after a few days on the ship, Kingston begins to see Taylor as more than just his best friend's little sister.
Just when he thinks they can explore a future together, Kingston gets THE call from his agent. Now he has to make one of the most difficult choices in his personal and professional life. Will he give up the professional chance of a lifetime for a chance with the girl he's fallen head-over-skates for?
Add to your Goodreads shelf.
Purchase on *Amazon | B&N | Kobo
*This site uses Amazon affiliate links.
Enter to win a hockey-themed swag bundle with a $25 Amazon gift card!
Includes: $25 Amazon gift card, cheer bow, sea-themed journal, Sea World shell ornament, bottle of seashells, anchor-shaped soap, mermaid magnet, Seaworld playing cards, Dream Big ornament, Orlando Solar Bears towel, Happy Planner notebook, desk hockey game, Bolts trading card, Take a Shot! glass, Palmer City Voltage puck and magnet, NHL Fresh Ice wax melts, and an I Love Hockey sticker.