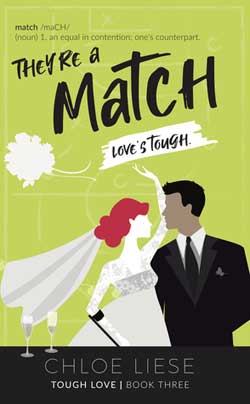 They're a Match (Tough Love #3) by Chloe Liese
Publication date: August 12th 2019
Genres: Adult, Romance, Suspense
Synopsis:
One blazing relational bond formed by two fiery lovers. And a new element just joined the formula.
Chemistry calls it covalence. Shakespeare named it the "marriage of true minds." Historically speaking, Nairne never liked the impractical notion of marriage, and Zed never thought he'd live to see the day when tying the knot was even an option. After a decade of entanglement in the mafia, Zed's now free to play the game he loves and love the woman who owns his heart.
Problem is, the spitfire's been a loner her whole life. Independent, self-reliant, and driven. And she wants nothing to do with marriage, since statistically it fails more than it succeeds, which to her scientific mind is the universally acknowledged definition of an experimental bust. But the elemental pull toward matrimony between the sexy scientist and her dark and handsome soccer star is stronger than Nairne anticipates. Can she risk her heart for her perfect match, even if it's a gamble rather than a sure bet?
In the game of life,
you win some, you lose some.
"And They Lived Happily Ever After" is theirs for the taking,
but for that pesky little word that so often gets overlooked…
"Lived."
—
Book Three in the Tough Love Series—a suspenseful romance, full of sexy Italians, feisty heroines, a house full of friends and family, and an ending that closes the chapter on these lovers, and paves the way for new ones.
Add to your Goodreads shelf.
Purchase on Amazon.
SALE: From August 5-12, the kindle books will be a total of $3 for 3 books (Book 1, free; Book 2, $0.99; Book 3, $1.99). Here is the link to purchase all three on Amazon.
About Chloe Liese
Chloe [has] always been a sucker for a suspenseful steamy romance, ever since she managed to find the one saucy mystery series hiding in her high school's prim little library. Nothing drives her crazier than a story that cranks up the heat, then closes the door on the reader's face, so don't read her books if you don't want to know what actually happens when the lights fade to black…
When she's not writing, Chloe's busy reading books of all genres, rereading Harry Potter (which she can't help but make her characters similarly obsessed over), and playing catch-up with her bad@$$ little girls. She's also been known to scramble around the pitch for a pick-up soccer match and run along the river while dreaming up her next book.
Connect with Chloe on her website | Facebook | Goodreads | Twitter
Giveaway Goodness
Enter to win a $25 Amazon gift card