Author Matthew Cox shares a hilarious take on 10 things to do in New Jersey.
1) Go to a mall.
2) Get stuck in traffic.
3) Pay a ton of taxes.
4) Get stuck at toll booths.
5) Have a pork roll & cheese.
6) Argue about the existence of "central Jersey."
7) Complain about drivers from New York.
8) Ashbury Park.
9) Confuse the heck out of people trying to explain the difference between the Parkway and the Turnpike.
10) *Jughandles.
*A jughandle is a type of ramp or slip road that changes the way traffic turns left at an at-grade intersection. Instead of a standard left turn being made from the left lane, left-turning traffic uses a ramp on the right side of the road. (Confused? Me too. Google it, there are pictures.)
About Matthew Cox 
Born in a little town known as South Amboy NJ in 1973, Matthew has been creating science fiction and fantasy worlds for most of his reasoning life.
Somewhere between fifteen to eighteen of them spent developing the world in which Division Zero, Virtual Immortality, and The Awakened Series take place. He has several other projects in the works as well as a collaborative science fiction endeavor with author Tony Healey.
Hobbies and Interests:
Matthew is an avid gamer, a recovered WoW addict, Gamemaster for two custom systems (Chronicles of Eldrinaath [Fantasy] and Divergent Fates [Sci Fi], and a fan of anime, British humour (<- deliberate), and intellectual science fiction that questions the nature of reality, life, and what happens after it. He is also fond of cats. Awards: Prophet of the Badlands (excerpt) – Honorable Mention – Writers of the Future.
Connect with Matthew on his website | Facebook | Twitter | Goodreads
About the Book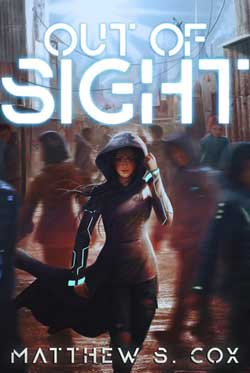 Out of Sight by Matthew S. Cox
Publication date: August 13th 2018
Genres: Dystopian, Young Adult
Synopsis:
Most Citizens hold Outcasts in dim regard, but Sima never expected they'd throw her off the planet.
In 2411, overpopulation has spread a plaque of filthy, congested city to the corners of the Earth. Government has raised corruption to an art form, and no one hears the cries of those left to die in the dark passageways of civilization. Following the End of Nations, people cling to the only division left: social status.
Since running away from home four years ago, she's managed to stay a step ahead of death―or worse. At sixteen, she's getting too old to survive from begging, despite her best effort to pretend she's younger. Worse, the sidewalks teem with little kids edging in on her turf, monopolizing Citizens' charity with their wide, pleading eyes and genuine innocence.
A chance meeting with suspiciously nice cops leaves her more confused than ever. Between deadly gangs, unforgiving security forces, and a terrifying madam eager to exploit a girl her age, merely getting older is the biggest threat to her life. With no good choice to make, she risks the least of three evils.
Sima thought her life on Earth had been dangerous…
She hasn't seen anything yet.
Add to your Goodreads shelf.
Purchase on Amazon
Giveaway Goodness
Enter to win $25 Amazon gift card