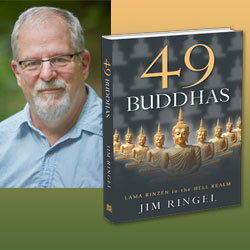 Jim Ringel is the author of 49 Buddhas: Lama Rinzen in the Hell Realm featured below.
What inspired you to write this book?
Buddhism teaches me the importance of seeing the world as it is, without the overlay of my own ego and emotion.
The same way a cop views a crime: objectively, without personal interpretation. That's what I wanted to explore in 49 Buddhas, the first in my Lama Rinzen Mystery series.
I'm a big fan of detective fiction. Jim Thompson, Dashiell Hammett, Raymond Carver, the Martin Beck novels. The story always seems pinned to the detective's ability to cope with a world too grimy for his own personal ethos or code of honor.
Like so many detectives before him, Lama Rinzen in 49 Buddhas has an ethos that he carries like a weapon into the Hell Realm. But weapons often turn on us and become our undoing. What Rinzen considers his strength becomes the very thing that keeps him from seeing what he needs to see.
I wanted to explore this Buddhist mystery in the context of a traditional detective mystery. That's why I am writing the Lama Rinzen series. 49 Buddhas takes place in the Hell Realm on Denver's Colfax Avenue. But it's really a Hell of the lama's own making. A projection of his own mind. He tries doing what he believes is right, but it only leads him deeper and deeper into confusion. That's the Hell of it.
The confusion, and the world's refusal to conform to our own viewpoint. Rinzen tries to bend circumstance to his own will, but in the end finds himself being bent. Absorbing into a bigger world not of his own making is how he truly comes to understand.
How did you come up with the concept and characters for the book?
The concept was really to explore the cross-section of the Buddha's teaching to see the world as it is without the overlay of ego and the detective's need to see a crime scene the same way. And yet, since every scene, and every Buddhist, and every fictional detective are no more than the interactions with what they see, how can we ever see a thing clearly, without the interference of our own interpretation?
I came up with the concept because how better to explore the Buddha's teaching on emptiness other than through a detective novel? All the twists and turns and misplaced clues are the very stuff that made the Buddha questioned to begin with. In fact, I believe had he thought of it, the Buddha may have been a detective in his time. And that maybe he is one today.
The characters I came up with because they'd been walking through my life a lot, and so I finally I said to them, "Hey, you want to be in a book?" And they agreed.
What did you enjoy most about writing this book?
I liked the exploration and understanding I developed for the Buddha's teaching on emptiness. It's a rather heavy teaching. I don't dwell on it directly in 49 Buddhas. It is not a text book. But I do look into little stories of how emptiness occurs in ours and in Rinzen's everyday doings. And how not recognizing it only leads more and more to confusion, and deeper into Hell.
Tell us about your main characters- what makes them tick?
I can say this. All my characters suffer from Desire. Desire is what lifts them from this moment into what they hope for the future. Each character wants something more. Sometimes their aspirations are noble. Sometimes they are mean. But always they trap these characters in Hell.
The inability to be accept what is, the need to have or be something more, that is the dissatisfaction that makes us unhappy. That's how we end up in Hell.
I leave it to the reader to see what each character craves, and whether their craving is destructive or uplifting in their stories. It is important to know, craving does not need to be suppressed. It should be understood. Only by understanding can we no longer suffer in Hell.
Who designed your book covers?
I was very fortunate to meet Victoria Wolf, a Denver area designer. We had a very brief discussion of concepts and she came up with some wonderful samples. One of those is the cover I decided on.
Did you learn anything during the writing of your recent book?
I learned a lot about what it takes to move a book from written to published. So many steps. The entire process has made me a convert to self-publishing. Every writer has his or her way of getting the job done, but I find it so much easier for me to be the one driving the process as both an art and a business.
About the Book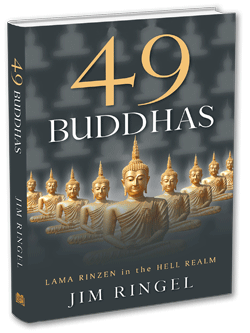 49 Buddhas: Lama Rinzen in the Hell Realm (Lama Rinzen Mystery Series Book 1) by Jim Ringel
Genre: Mystery
Synopsis
49 Buddhas tells of Lama Rinzen in the Hell Realm—a realm of confusion, shifting ground, and anger.
Lama Rinzen awakens from meditation to find himself reincarnated as a detective on Denver's Colfax Avenue. Immediately he realizes that once again he has been reborn into the Hell Realm—this time charged with finding insurance man Sonny Heller's killer.
Rinzen believes finding Heller's killer will lead to the Sacred Dorje, which has eluded the lama for many lifetimes. By finding the Dorje, he will become a bodhisattva, allowing him to lead all sentient beings to Nirvana. But should the Dorje escape his grasp, Rinzen will be forced to suffer yet another lifetime in Hell, haunted by past demons and his failure to achieve enlightenment.
Add to your Goodreads shelf.
Purchase on Amazon.
About Jim Ringel 
Jim Ringel writes the Lama Rinzen Mysteries, with each book set in one of the six Buddhist realms of Hell, Hungry Ghosts, Animals, Humans, Warring Titans, or Gods. In each realm, Rinzen must solve a crime and learn the lesson of the realm so he may progress along his path to enlightenment. The first book of the series come out in May, 2018.
Jim is a Buddhist practitioner who writes and explores Buddhism in his every day life. His previous works include the novel Wolf, a "sales-werewolf" noir set in a world where vanquished dogs return seeking revenge, and where salesmen sell products they cannot understand.
Jim writes the Writing Like a Buddha blog (www.WritingLikeaBuddha.com), and lives in Colorado with his Tibetan Terrier, Rascal, who is both inspiration and teacher.
Connect with Jim on Website | Facebook | Twitter | Amazon | Goodreads
Giveaway Goodness
Enter to win hardcover copy of 49 Buddhas, $10 Amazon gift card