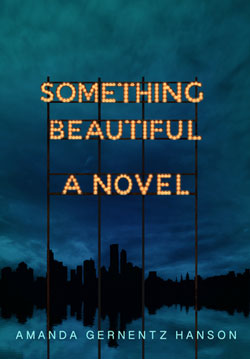 Title: Something Beautiful by Amanda Gernentz Hanson
Published by: Pen Name Publishing
Publication date: June 27th 2017
Genres: Contemporary, Young Adult
Synopsis:
Cordelia and Declan have been best friends since they were three years old. By the time they hit middle school, Cordelia—Cord, to Declan—is already feeling the blackness in her life as depression takes hold. Their mutual attraction to each other leads to a serious high school relationship, one with their foundation of friendship at the forefront. Cordelia seems to have her mental health under control. All appears to be well.
However, when Declan starts to accept his own fluid sexuality, it sets something in motion in their lives that is both beautiful and tragic as they learn to love each other for who they are.
Click to add Something Beautiful to your Goodreads shelf.
Click to purchase on Amazon | B&N | Kobo
About the Author 
Amanda Gernentz Hanson has been writing stories since the third grade, when she entered a five-page story about talking dogs into a local youth arts contest.
She is an instructional designer by day and an everything else by night. Amanda is a proud Latina who earned her Bachelor's degree in Chemistry from Hope College and her Master's degree in Technical Communication from Minnesota State University.
You can find her on the internet at browneyedtwentysomething.com, diverseladybookproject.tumblr.com, and on Twitter and Instagram @amandamariegh. If you see her in the wild, she probably has a book in her purse.
Social media: Twitter | Facebook | Goodreads
Excerpt
Chapter 1—Now
October 2014
"Fresh off of her book tour, I have here an advocate who is actively involved in fighting inequality in her daily life. I give you, Cordelia Quinn!" The rally organizer steps aside, and I can finally see the crowd. I wave, and the rally organizer gives me a dazzling smile before she continues. "Cordelia Quinn is the bestselling author of The Yellow Wood, a coming-of-age story about a boy and a girl who are best friends as children but choose different paths as adults and then come together later in life. She is also an award-winning screenwriter and one of the most outspoken LGBTQ allies in publishing. Please join me in welcoming her to the podium!" The crowd breaks into thunderous applause that echoes through the cold air, and a smile pulls at the corners of my mouth.
I can't lie—I'm nervous. I'm not good at hiding my emotions, so I'm afraid that people might be able to tell. I hate crowds, and I hate public speaking. I've managed to avoid it ever since I spoke at high school graduation.
"Hello, Topeka," I begin. My voice is shaking. God, I hope no one notices.
The crowd is rumbling below me, waiting for me to say something good. I'm not even sure I have anything good to say. I'm so bad at this. But I've learned that being honest is usually the best way to go, so I decide to veer away from my prepared speech and try for candor.
"I'm going to admit something to you," I say, gripping the sides of the podium to keep my hands from trembling. I can't be trusted to hold papers or they'll be shaking so much that I can't read them. "I'm not a fan of public speaking, and I don't usually speak at rallies like this one. But this issue… it's really important to me. Those of you who have read my book know that. So, when my publicist asked me to come here and talk to you, I couldn't really turn her down."