About Judy H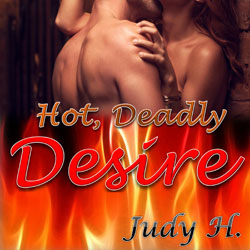 Judy H. is a romantic at heart, but she likes a little mystery and even a bit of danger in her books.  She wants her stories filled with hot, heavy passion, blistering sex and flawed characters you like to root for and sometimes hit upside the head!
Her heroines are smart, savvy, and self-sufficient.  Her heroes have to be strong, somewhat mysterious, and maybe even a tad dangerous.  When her hero and heroine meet, spontaneous combustion occurs.
She's a southern girl who enjoys cooking and eating, reading, and of course writing. She keeps a digital recorder by her bedside and in her purse because she never knows when an idea will strike, and she has to be ready to answer the call whenever it comes.
Describe yourself in five words or less.
Tenacious, fun, grounded, creative and resilient.
Favorite writing place. 
My back porch.
What are 5 things you must have with you when you write?
My laptop, a little background noise, something to drink (not the hard stuff, lol; just something to wet my whistle), my cell phone nearby, and a digital recorder (because sometimes my mind thinks faster than I can type).
Can you tell us a little about your book?
Hot, Deadly Desire is what I like to call an erotic romantic suspense.  It's about a tough, haunted police detective, Cinnamon, tracking a sadistic serial killer who's just killed her best friend, and the too-good-to-be-true man (Dane), she picks up in a bar.  They both agreed to a one-night stand; however, they quickly become entangled in hot steamy desire and heart-pounding danger.
Name one thing you won't leave home without.
My phone.
Name three things on your desk right now.
My laptop, my desktop, and my phone.
A la Twitter style, please describe your book in 140 characters or less.
Cinnamon (a homicide Detective tracking a serial killer) meets Dane (a man who unleashes her hidden desires) but is he the killer she seeks?
Is there anything that you would like to say to your readers and fans?
Thank you for giving me and Hot, Deadly Desire a chance.  I appreciate your support more than I can ever say.
Connect with Judy H: Website | Facebook | Twitter | Goodreads
Title: Hot, Deadly Desire by Judy H
Release date: May 26, 2017
Synopsis
Cinnamon Monroe is a Dallas Police Detective who is relentlessly hunting the sadistic murderer whose latest victim was her best friend, Katie. As she relentlessly tracks the maniac intent upon turning Dallas streets red with innocent blood, the devil continues to be one step ahead of her…maddeningly just out of reach. She's a cop teetering on the brink with a monumental score to settle, and she won't be stopped until she brings Katie's killer to justice—one way or the other.
Dane Nicholson is a successful man with an enviable job, social position, and a bright future. However, few know of the horrors his past holds—a past threatening to intrude upon and destroy his carefully crafted existence. The last thing he's looking for or can afford right now, is a serious relationship. However, when a chance meeting leads him to Cinnamon, he can't quell the crippling attraction between them, and it seems neither can she. Danger lurks around every corner, but even that won't keep him from the beautiful, mysterious woman who might be the best thing that's ever happened to him—if only he dare take the chance and let her into his dangerous world.
Cinnamon has terrible secrets of her own. She's a woman with a devastating past that has haunted her for thirteen years. For good reasons, she doesn't trust men; however, upon meeting Dane, unexpected passion sparks, ignites and threatens to burn her alive, causing her to remarkably contemplate lowering her guard and letting Dane into her battered heart. Once she's bared her soul to him, the unthinkable happens when irrefutable evidence is uncovered which points to Dane being the killer she's hunting!
Has fate pulled the cruelest joke of all by making her fall for the one man she can never have—a sadistic serial killer who butchered her best friend? Can she and Dane survive their hot, deadly desire, or will it incinerate them, leaving nothing but tattered ashes in its wake?
Click to add Hot, Deadly Desire to your Goodreads shelf.
Click to purchase on Amazon | B&N | Kobo | iBooks