Who is Kailee Reese Samuels?
Embracing diversity. Coffee addict. Mango lover. Blueberry fetishist. Sweet peach tea crazy. Red wine devout. Whiskey deviant. Tattooed & pierced. Loves shoes. Collects rosaries. Fanatical organizer/cleaner/list-maker. Never sleeps. Hermit and recluse.
Storyteller.
Kailee Reese Samuels has been spinning tales since she can remember. Her books are contemporary fiction with a no-holds-barred attitude. She adores listening to her characters ramble and putting them into situations that push the boundaries.
Creativity is the way to change.
I see from your bio that you collect rosaries. Why rosaries? 
*smiles* That is such an awesome question! I started collecting rosaries years ago when I was confirmed. This is not to say I am a strict Catholic, I am not. I embrace many forms of spirituality, I have studied Buddhism and Wiccan extensively. I am rather bohemian and try to walk in grace at all times.
Back in 2013, I almost died and I was very incoherent and out of it. I ended would clutch my rosary and japa mala— one in each hand. It was during that time that I decided if I came out of it I would write with the intent of publishing.
Six months later, I eventually recovered and I just started carrying the rosary and my laptop with me, they went hand-in-hand. The one I have used the most is one of those that you give children – My first rosary – it's broken and a mess, but that is also why John bought it for me. So I didn't ruin any of my precious collection. I have many antique ones and even one made from rose petals from Italy.
Let's talk mangoes for a bit. I am originally from the Caribbean and mangoes were a staple. Which variety is your favorite? Do you make any special dishes with them or do you eat it raw?
I am not well versed in the variety of mangoes, sadly. Living in Texas, they are usually always available in the markets. I love them raw, but I have also been known to cook with them. In the summertime I always make fresh preserves to can  – strawberry, cherry, blueberry, apricot, peach – last time I did it, I made a batch of mango. Oh my, it was tasty! We have used it on everything from toast to chicken and fish dishes. I can never have too much mango. I adore the mango!
Since you enjoy making lists… share the top 5 things you like doing when you are not writing.
Reading – My preference is for the dark and unusual.
Gardening – I have an extensive collection of roses, salvias, and herbs.
Baking – Bread, I love kneading and the smell of yeast rising.
Mowing – We have 5 acres between mom and me. Time to think alone.
Quilting – I don't do it often enough and I am not very good, but I love the math of it. It really pushes my mind out of my comfort zone.
Thank you so much for these questions! They were awesome!
I really appreciate you taking the time to find out some things about me and asking specific questions unrelated to my books. That was great!
Have a great day!
Kailee XO
Connect with Kailee: Website | Twitter | Goodreads | Facebook
About Grunt by Kailee Reese Samuels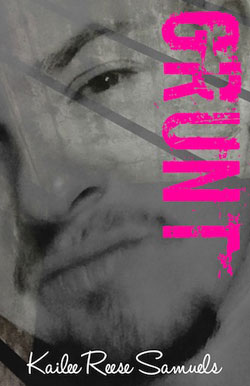 Title
:
Grunt (The SOS #3)
by Kailee Reese Samuels
Publication date: May 30th 2017
Genres: Erotica, Romance, Fantasy, Young Adult
Synopsis:
Six days.
No one thought I could last
Here in the cell—I now call home
They didn't know I grew up in the prison of my crime family's dream.
Six weeks.
No one thought I could withstand
The loss, the drugs, the torture
They didn't know how much I would enjoy their game.
Six months.
No one thought I could survive
Their puppet and prey—but I like to play—Hard.
And I don't lose.
They picked the wrong guy. Their so-called 'grunt' would fight to get home and take revenge. I vowed to come back—for her—for Kaci. But everything changed.
My maniacal mind wrapped with a pretty mug, I am an unforgiving opponent, tough—tougher than they ever imagined.
And I will never – ever – break.
Click to add Grunt to your Goodreads shelf.
Click to purchase on Amazon