About the Book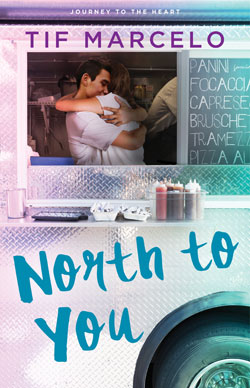 Title: North to You (Journey to the Heart #1) by Tif Marcelo
Release date: June 5, 2017
Published by: Pocket Star
Synopsis
In this warm-hearted and charming debut from Tif Marcelo, a food truck chef and her long lost Army love clash when they cross paths in San Francisco.
Camille Marino has got a full plate. As the sole guardian of her eighteen-year-old sister and the head chef and owner of a food truck, she's used to life being a juggling act. With food to cook, social media accounts to manage, and a little sister to look after, she doesn't have time for much else.
That is until Drew Bautista walks back into her life.
Drew is Camille's former high school crush and he returns to San Francisco to repair his relationship with his father before he ships out for deployment. By helping his father renovate his failing Filipino restaurant, he hopes to win back his respect. But when sparks fly between Drew and Camille—his father's major competition and sworn enemy—Drew is conflicted. Should he join his father in the war against her food truck? Or surrender to the woman who's given him a second chance at love?
Click to add North to You to your Goodreads shelf.
We grabbed Drew after his first date with Camille. Ten years have passed since he's seen her and we wanted to know how he felt reuniting with an old love.
So, Drew, how did the date with Camille go?
Drew: It was…good.
Just good?
Drew: (grins dreamily) It was more than good. We had some delicious food, a nice talk…(silence)
Ahem…
Drew: Oh, sorry. Was just thinking of that beautiful woman. I thought it was a successful first date, but she wasn't exactly jumping at the next time we should see each other, you know? She didn't get into the specifics, but it sounds like she's got a ton of things going on, as I do. She wants to go slow, and I respect that.
Is this the right time for a relationship for you? Aren't you back in town for a limited amount of time?
Drew: I've got less than a month before I have to deploy. Not nearly enough time with the amount of work I've been given by my pop. But whether I've got nothing to do, or if I work over time, I would be stupid to let this second chance go. This is Camille. She disappeared from my life once before, and I'm not letting her go without giving this little thing we have a try.
Speaking of…the choice to come home. Why now?
Drew: Ah…my pop. The reason why I'm here. To tell you the truth, I wouldn't have moved back home at all if it wasn't for him. But things have been tense for us for too long, and I couldn't stand it. Life's too short to allow the bad blood between us to fester. Though he busts my balls every chance he gets, I can't deploy without us being straight. And part of me doing work at True North is getting into a space with him where we can talk about things.
What's he got you doing back at the restaurant?
Drew: Everything.
Everything?
Drew: Everything. A whole gut job. Meaning I'm spending my last hurrah meeting contractors and pulling up floors and whatever my pop's got planned. But as much as I sound like I'm whining, I'm glad for the work because it's my chance to bring peace back home.
And seeing Camille—I can't help but think that she's part in parcel of this new chance.
Should Camille decide to go out with you again, what do you have planned?
Drew: (hands clasped behind his neck) She's lived in San Francisco all her life, but I want to make this place all new for her. Make it different. Make it ours. So, I think we're going to start with local tourist traps.
Before we end this interview, do you have any advice for people who don't know whether they should risk that second chance?
Drew: Yeah, one thing. Find out where your True North points to, and if it's to that second chance, run like hell after it.
###
Check out an interview with the author of North to You, Tif Marcelo in our Book Talk interview.