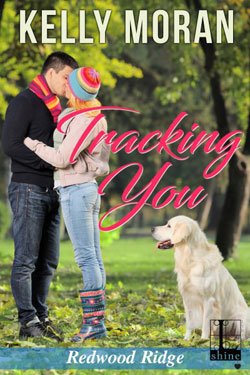 Title: Tracking You by Kelly Moran
Genre: Contemporary Romance
Published: 5/23/17
Synopsis

Love isn't always loud. Sometimes it's silent.
Gabby Cosette has always been dubbed the good girl of quaint Redwood Ridge, Oregon, and being permanently put in the friend zone has left her dating life stagnant. With no prospects in sight, she clings to her friends and resolves to not let loneliness drag her under. So when the town Battleaxes set their matchmaking sights on her, she figures it can't hurt. Yet the guy they think is perfect for her just happens to be not only her boss at the veterinarian clinic, but her best friend. Sure, Flynn O'Grady is attractive and the nicest guy around, but going there with him would topple both of their carefully constructed worlds and there would be no going back. Even if he is starting to make her girly parts zing.
Having been born deaf, Flynn has already felt like an outsider most of his life. Aside from his brothers, Gabby is about the only person who's gone out of her way to treat him as more than a handicap. Which is exactly why he's banked his secret attraction for his sweet, beautiful vet tech. Except his meddling family is trying to play Cupid and ruin the best thing to ever happen to him. Without Gabby, his work as a veterinarian, never mind his personal life, wouldn't flow. Determined to ignore the antics, he's secure in the knowledge she's not interested in him romantically. But then a kiss changes everything . . . and he's wondering if taking the ultimate shot at love might be worth the risk.
Purchase Tracking You on Amazon | B&N | iBooks | Kobo | Google Books
Click to add to your Goodreads shelf.
Excerpt
Gabby Cosette smoothed her hand down the simple baby blue sundress she meticulously picked out for this evening and tried not to look too eager. Or throw up. That wouldn't do either.
From a back booth, she glanced around the only Italian restaurant in Redwood Ridge, comforted by the fact it was still early yet for the dinner rush. The place was a good choice. Right? Not as casual as Shooters—the bar she and her friends frequented—but not as formal as one of the seafood restaurants that dotted their Oregon coastal town. A step above grabbing coffee or a beer, yet it didn't scream desperation.
Was a booth in the back too obvious? Had she overdone it with her makeup? Maybe she should've put her hair up instead of down?
No, no. She went for light and natural on purpose. The patrons of Redwood Ridge had known her all her life. It wasn't far out of the realm of ordinary for her to wear a dress and light cosmetics. She was being a basket case.
It's just… Well, she hadn't had a date in a year. A year!
To calm her nerves, she drew in a deep breath and focused on the red checkered tablecloth. A votive candle flickered on the windowsill to her right, the flame reflecting off the tinted glass. The parking lot stretched beyond, where her date's car was not in one of the available spots.
It was silly to get this worked up over a first date, especially with Tom.
She'd gone to elementary and high school with him. His parents still lived down the street from hers. Strange how he'd never shown any interest in her romantically, yet out of the blue, he'd asked her out this week.
Then again, most everyone in town viewed her as the sweet Cosette girl, everyone's friend. Thus the no date in a year. It was hard to get a guy to think about kissing her, never mind imagining her naked, when she had platonic all but tattooed on her forehead.
The waitress strolled over in her apron, holding a notepad in her hand.
"Are you waiting on someone, sweetie pie?"
"Yes." She smiled and grabbed her cell on the table. Tom was five minutes late. "He should be here any minute."