I've tried Blue Apron, Hello Fresh and now Home Chef. If you missed my thoughts on Blue Apron and Hello Fresh, you can view it here.
Hello Fresh won out Blue Apron for me, but I was looking for something more. I wanted to incorporate more veggies into my diet. An ideal mix for me would be more veggies and seafood and much less meat.
With Hello Fresh you either got all veggies or all meat and seafood. I didn't like their choice of veggie meals; most were sandwiches at the time I was looking (keep in mind they change their recipes all the time).
Enter Home Chef. I checked out their menu for the month. I was highly impressed with the selections. You could mix and match which sold me, so I signed up for the special (they always offer a special to get you started).
First off Fedex dropped my box straight to my door! The others usually leave the heavy box at the office, and I go get it when the office remember to call me or leave a note.
The box was much smaller than the others and I got worried. It was in excellent condition though.
When I opened the box, the first thing that greeted me was the menu binder. That simply warmed my heart, it was so thoughtful of them to take the time to put together something like that.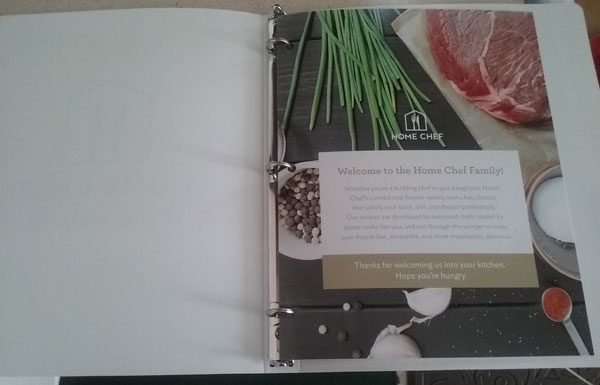 Next came the ingredients packaging, it gets kind of dicey there because you never know what melted or spilled or got away from its packaging as it did with the other delivery services.
Everything was in pristine condition, neatly bundled together and labeled. They put them in plastic bags so that even if there was some liquid spillage, the rest of the ingredients would be saved. They obviously put serious thought into that.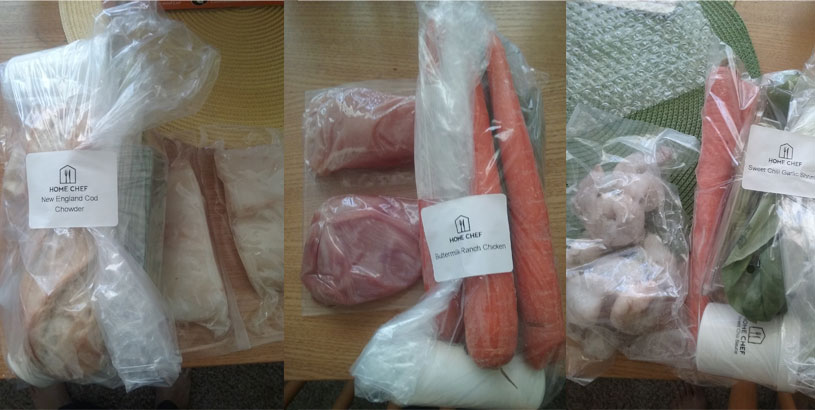 There was an insulated box inside the cardboard box and the ice pack thing was at the bottom with the meat and sea foods. This worked amazingly good as the proteins were still frozen.
10 AMAZING STARS! to these guys for packaging.
The meals were easy to follow and didn't take long to make. I loved that they give tips and heads-up about the ingredients. For example, if the recipe called for cilantro, they warned you that cilantro will be used twice in the recipe. LOVE IT! So thoughtful.
The portion sizes were just right. The taste, even the mashed carrots, which I had reservations about tasted amazing!
I did a variation on the chicken breast menu because I don't understand how people can eat a whole grilled chicken breast (I'm a dark meat kinda gal). I cut mine up and mixed it with green onions in the delicious sauce the recipe had me make. YUM!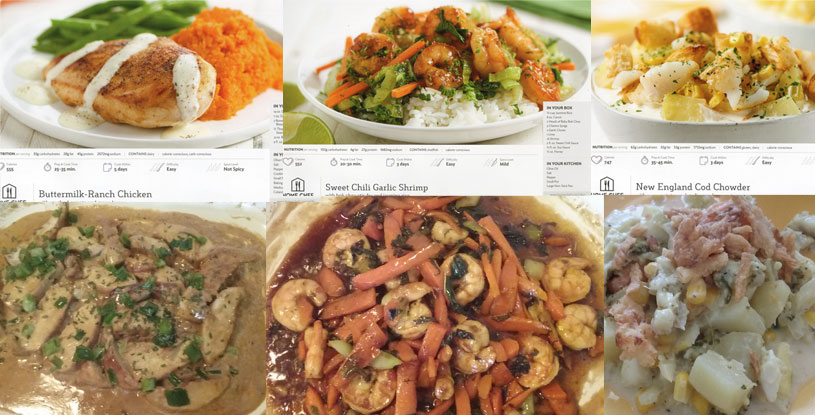 Will I be using Home Chef again? You bet! I've already signed up for 3 more deliveries. I'm still doing it once a month. I also have a Hello Fresh coming —I liked the menu for the week :-).
If you'd like to try Home Chef for yourself, use this link. It is my referral link. If you've tried it, let me know your thoughts.