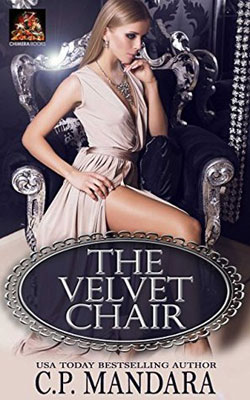 Title: The Velvet Chair (Velvet Lies #1) by C.P. Mandara
Publication date: February 6th 2017
Genres: Erotica, Romance
Synopsis
"Oh, darling. You're going to be so easy to conquer." His finger reached under my chin and pulled my face back to meet his. "I can't wait to strip you out of that dress and watch you crawl around my home naked. I'm going to spank that delectable ass with every damn pervertible I can find. Hairbrushes, wooden spoons, spatulas, and I might even try a damn baking sheet. That ass of yours is always going to be prettily pink and perfectly swollen while you're under my roof."
My name is Mark Matthews. I own half of London, and the part I don't own, I'm working on.
Life was all going swimmingly well until Michael Redcliff entered my life, demanding that I marry his daughter. Actually, swap demand for blackmail. He's got goods on me that I want no one else to see, so for the time being I need to be his little lap dog.
I'll marry his daughter. I'll give him all the status, money and power he can handle… for as long as it takes me to get a divorce. You see, I can't renege on our little arrangement – but she can. I give her a week. One week and she'll be screaming the place down for her legal counsel.
I am never wrong.
Click to add to your Goodreads shelf.
Click to purchase on Amazon | B&N | iBooks | Smashwords | Kobo
My Review
Christian Grey has nothing on Mark Matthews!
If you liked Fifty Shades of Grey, then you would LOVE The Velvet Chair.
The characters are smart and entertaining. This book pulled me through the pages and I looked forward to seeing where the story was going. My heart went out to Jennifer Redcliff, the heroine.
Forced to marry Mark Matthews, the man she loves/hate/lust Jenn finds herself in a world that she cannot walk away from. Her choices were to endure his sexual torture and public humiliation or divorce him and deal with the wrath of her father.
I kept turning the pages hoping that Jenn would find some way out of her situation. I wanted to scratch Mark Matthew's eyes out. I couldn't believe one human being could be such a c**t.
Desperation leads Jenn to make the ultimate sacrifice, which completely floored me. This book ended abruptly and now I feel the pain of my readers when I drop a huge cliff hanger on them.
I like the way the story build as the scenes changed. The descriptions of the scenery and characters put readers right into the story. It was a bit traumatic for me because I had no idea what BDSM entailed. The book is very explicit so if you are overly sensitive then I suggest skipping this one.
I would also suggest reading the other books leading up to this one. I kept waiting to find out the details of what got Mark Matthews' panties in a twist, why he hated Jenn so much but that was never revealed in depth, it was skirted around.
The backstory of some important characters was not revealed. My guess is that their backstory played out in earlier books but was not carried over to this book. Basically, the book left me with lots of questions and the story felt like it was missing something.
The book was definitely not boring and I didn't have to force myself to read it.
The Velvet Chair is part of the tour below and I was given a copy of the book in exchange for an honest review.
Giveaway
$30 Amazon gift card & ebook copy of The Velvet Chair | 4x ebook copies of The Velvet Chair
About the Author 
Christina Mandara is a USA Today bestselling author and tends to write dark romance with lashings of kinky naughtiness. Her favorite pastime is traveling, and if it involves sun, sea and… sand then it's all good.
In her spare time, she's usually cuddled up with a good book, exploring the countryside or baking in the kitchen. In fact, she loves her kitchen so much she's one of few woman who wouldn't mind being tied to it! Her first and foremost love is writing, however, and more often than not you'll find her on a laptop spinning tales of romance, erotica or dark, paranormal fantasies.
She's a big fan of BDSM in all of its glorious forms, and her favorite item in the toy closet (a box simply isn't big enough) is her riding crop.
C.P. Mandara's Sexy Sizzler Newsletter Sign Up: http://bit.ly/1MVubkR
Connect with C.P. on her website | Goodreads | Facebook | Twitter