Taylor Marsh writes smart, arousing romance while deciphering world events. She lives in the Beltway area of Washington D.C.
Beltway Betrayers, Book 2 of The Beltway Series, will be out in May 2017 and Book 3 of this series will be out in the fall.
She is a former Broadway performer and beauty queen who was the Relationship Consultant for LA Weekly, then the nation's top alternative newsweekly. Taylor is the author of two traditionally published non-fiction books, The Hillary Effect, and her memoir, The Sexual Education of a Beauty Queen.
Taylor was profiled in The Washington Post and The New Republic for her coverage of Hillary Clinton during the 2008 Democratic primary season. She became a contributor to The Huffington Post in 2006 and has written for Washington, D.C.'s The Hill, as well as for U.S. News & World Report and for Zócalo Public Square in Los Angeles, among others.
As a seasoned entertainer, communicator and speaker, Taylor have also been interviewed by The Los Angeles Times, Al Jazeera Media Network, The New York Times, BBC, CNN, MSNBC, and C-SPAN's Washington Journal, among other outlets.
Why did you set your book in Washington, D.C., & Los Angeles?
The people who reside in or nearby these metropolises absorb the ego accumulated by the history made in them over decades.
The glamour and power that is Hollywood is unparalleled, and it remains one of the last bastions of male dominance.
It's just one thing Hollywood has in common with Washington, D.C.
The pageantry and anointed royalty of Hollywood was born many decades ago in the Golden Age of cinema.
It wasn't until the era of John F. Kennedy and Jacqueline Bouvier Kennedy that Washington became the center of the world, with beautiful people commanding the ultimate power.
Hollywood had moved east. The world revolved around a swamp area populated by some of the most gorgeous creatures living off the lushest land imaginable, none of them human.
These two cities lend themselves to a psychological thriller (romance) because the continual competition can make for fragile egos, short-lived romances, and lethal battles of will.
It's about mind games.
We get in our heads about everything.
One character's personal mind games inevitably run into another character's prerogatives.
Drama and tension ensue.
In Beltway Betrayers, the mind games that set the story in motion become a roller coaster ride in two cities where bigger than life characters put everything on the line.
A story set in cities where the drama can be as outsized as the ambitions of the people.
Alex Gantry loves T.J. Gale. It's a new relationship that's gone through a lot of testing. Thousands of miles away in Los Angeles, Alex's ex-boyfriend, Hollywood mogul Brian Marks, is grappling with the loss of Alex to a man 20 years his junior, who Brian thinks is half the man he is. The two lovers, Alex and T.J., want Brian out of their lives, but he has no intention of granting their request without a battle.
It's a thrill ride for the reader from the Washington, D.C., Beltway to Los Angeles, California.
People who play for power, love, and contentment in these cities have to vie for the prize through the will they exact on their own ego.
Forced to admit that love is the only thing that can save them from themselves.
Giveaway
Enter to win: 3x ebook copies of Beltway Betrayers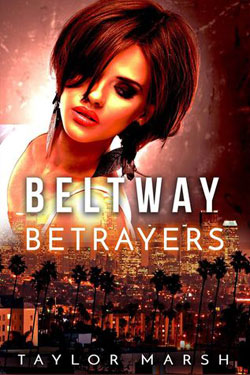 Title: Beltway Betrayers by Taylor Marsh
Publication date: May 12th 2017
Genres: Adult, Psychological Thriller
Synopsis:
There's a secret.
A woman is heard whimpering in a parking garage.
A dark side to the powerfully rich is exposed.
And Alex Gantry is at the center of it all.
After several frightening events that shook Alex's world, things have settled down.
So it seems…
Elite life coach, Alex Gantry, is enjoying her new life in the Washington, D.C. Beltway.
T.J. Gale, who's part greenpreneur, part leader of a quick-strike unit of former military and intelligence professionals, has set her heart aflame.
Alex and T.J. are in love.
Enter Jett Spence, a man who once was part of T.J.'s world but who is now an unknown, because no one can tell whose side he's on.
Two thousand miles away in Hollywood, Alex's old haunts, the powerful producer Brian Marks is falling apart because he's lost her. The woman he never thought would leave him is now in the bed of a younger man.
In New York City, T.J.'s ex-wife, Lisa, is looking to get even with the woman she thinks destroyed her marriage. Her vengeful father Davin Dalaney is eager to help because T.J. is no longer willing to ignore his criminal profits.
Brian is intent on getting Alex back.
Lisa wants to make her pay.
And T.J. is attempting to keep her safe.
Alex believes she can take care of herself, but being with T.J. has taught her it's not always that simple.
From the Washington, D.C. Beltway to Los Angeles, California, the stakes couldn't be higher.
Click to add to your Goodreads shelf.
Click to purchase on Amazon
Connect with Taylor: Goodreads | Website | Twitter | Facebook