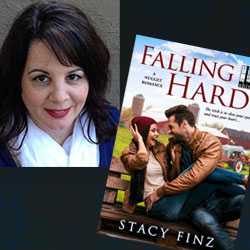 Five Fun Facts about the Nugget Romance Series by Stacy Finz
The fictional town of Nugget is based on an amalgam of towns in Plumas County, which is located in California's Sierra Nevada. My main inspiration was the town of Portola, less than an hour from Reno, Nevada.
There was a real-life burger restaurant called the Bun Boy in Baker, California (nowhere near Plumas County) but it's now closed. I used to eat there on my way to Death Valley and the name stuck. So, when I decided to include a burger joint as one of the businesses in Nugget it was a no brainer to call it the Bun Boy.
The inspiration for Sierra Heights, Nugget's sole gated community, came from Grizzly Ranch in Portola. It's a gorgeous subdivision with a golf course that seems slightly out of place in an otherwise rustic town. My husband and I like to make fun of it, but secretly, we want a home there.
The area of the Sierra Nevada that I write about is not far from where the Donner Party tragedy happened. I've always been obsessed with this piece of California history because hello, cannibalism. The heroine in the first book in the series, Going Home, is also obsessed with it.
The Feather River, which is a landmark in all my Nugget books, is completely real and absolutely spectacular. And as I write this was at risk of overflowing due to all the rain we've gotten in California.
About Stacy Finz 
Stacy Finz is an award-winning reporter for the San Francisco Chronicle. After more than twenty years covering notorious serial killers, naked-tractor-driving farmers, fanatical foodies, aging rock stars and weird Western towns, she figured she finally had enough material to launch a career writing fiction.
In 2012 she won the Daphne du Maurier Award for unpublished single-title mystery/suspense. She lives in Berkeley, California with her husband.
Connect with Stacy: Newsletter | Website | Twitter | Facebook | Amazon | Goodreads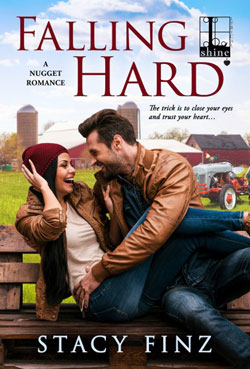 Title: Falling Hard by Stacy Finz
Publication date: 4/11/2017
Genre: Contemporary Romance
Synopsis
In the beautiful Sierra Nevada mountain town of Nugget, California, falling hard is all too easy . . .
This is the summer of Annie Sparks—at least according to her. No more supporting lazy jerks or coddling irresponsible family or taking care of anyone who doesn't deserve her help. Instead she's headed to an estate in a remote mountain town, to spend her summer with her boots covered in mud and her hands working the earth. Love is the last thing on her mind.
Nugget is a long way from Logan Jenkins' old life as a Navy SEAL. But before he starts fresh in the private sector, he receives a bequest from a man he never knew: his biological father. To learn more about his background, Logan makes his way to his late father's estate, where he is immediately knocked on his heels by an incredible woman with a heart of gold.
Annie's not looking for a fling, and Logan knows Nugget can't be forever, so falling in love should be impossible. But when they're together, time stops, and suddenly the impossible seems like the only thinkable option . . .
Click to add to your Goodreads shelf.
Purchase on Amazon | iBooks | Google Play | Kobo | Nook
Give Away
Enter to win a $5 Amazon gift card
Excerpt
Chapter 1
The big gate stopped Logan Jenkins in his tracks. He didn't know what he was thinking, coming here like this. But his curiosity had gotten the better of him. A man ought to know where he came from and who his people were, he supposed.
Until a week ago, he hadn't given a good goddamn. Then, boom, life had changed with just one phone call.
He pulled his pickup to the side of the road, slung his backpack over his shoulder, and got out to have a look around. Picturesque and peaceful, nothing like the hellholes he'd come from.
The gate was impressive with its curlicue ironwork, but not much for keeping anyone out. To prove it, Logan hopped the twelve-foot fence, avoiding the top's sharp, ornamental spears, in under a minute and hiked up the long gravel road. At the peak of the hill he paused and let out a low whistle. Even from a hundred yards away, he could see that the house put the gate to shame. It looked like one of those mega–ski chalets plucked from an Alpine mountainside. Lots of large windows, tiered decks, and big log siding. It was built to appear rustic, though it was anything but. The landscape wasn't bad either. A river snaked through miles of rolling pastures with the Sierra Nevada mountain range looming in the background.
This is where he would've grown up if things had been different. Instead, for the last twelve years he hadn't belonged anywhere—or everywhere, depending on how he looked at it. His last address—be- sides the apartment he shared with Gabe when he was stateside—had been Afghanistan. A far cry from Rosser Ranch.
No one tried to stop him, so he continued down the driveway,  to- ward the house, taking in the sights. A four-car garage with a guest house. A front lawn as big as a soccer field. And lots of flagstone pathways. Someone went to a lot of trouble to make the gardens seem native to match the surrounding countryside.
By now he would've expected at least a dog to have barked at his presence. Crappy security. But he suspected there wasn't much crime in Nugget, California. Just a spot on the map, really. According to a quick search on the internet, its claim to fame was the Western Pacific Railroad Museum, which offered a train ride through gold country. The blurb he'd read said Nugget was still very much a railroad town, now a crew-change site for Union Pacific. Before the railroad, there'd been the Gold Rush. But ultimately, the pioneers had made their fortunes from timber and cattle. Major cattle ranches still covered the countryside.
Logan laughed to himself. Who would've thought his ancestors were cowboys? The closest he'd ever gotten to livestock was the Kochis' goat and sheep herds in the Hindu Kush. Here, he could see plenty of cows dotting the hills in the foreground like a poster advertising rural life on the farm. Pretty domesticated and attractive, he had to admit. Just not for him. He maneuvered better in chaos. Thrived in it, actually.